Tsitsikamma Storms River Shuttle Transfer Services
Sit back relax, let one of our Drivers Transfer you to or from the Airport or any destination around Tsitsikamma Storms River and surrounding areas. Private Transfer Service available at any time on your request.
Est: 2005. All Vehicles have Legal Road Permits and Passenger Liability Insurance, Drivers have Professional Driving Permits for your Safety and Peace of Mind.

One of our friendly drivers will collect you from the Airport Your Hotel or Guesthouse and transfer you to any destination of your choise.

For Friendly, Professional, Reliable 24/7 Service Call us on 083 6111 003 or mail jbaycabs(@)gmail.com
Tsitsikamma Storms River Tourist Information
Tsitsikamma - the Garden of the Garden Route welcomes you - Tsitsikamma is a Khoi word meaning "place of abundant or sparkling water".
The region, which sits on a 200m high plateau stretches from the Bloukrans River in the west to the Tsitsikamma River in the east, is bordered on the north by the imposing Tsitsikamma Mountains and in the south by the Indian Ocean.
Storms River Village
Today Storms River Village has become a bustling little town with a very special ambience and feel, a Village where one may wander through the streets where elephants once roamed, walk down the old pass where convicts toiled at the rock face, admire the giant forest trees where once weary woodcutters rested in their shade, have a cool drink where old buffalo hunters told tales of daring and dash.
And although the Village is a bit more modern now, with electric light, paved roads and the like, I think somewhere the spirits of the San, the elephant, Thomas Bain, the long gone convicts and the Duthies would look down on our Village and quietly nod in approval.
Who to contact for more Info on Tsitsikamma
Tsitsikamma Tourism
Tel: +27 042 285 0562
http://www.tsitsikamma.info/
J Bay Cabs and Transfers
Tel: +27 (0)83 6111 003
Email: jbaycabs@gmail.com
Transfer Destinations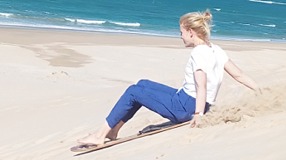 Adventures
Sandboarding, Surfing, Kayaking, Beach Rides, SUP's......
Active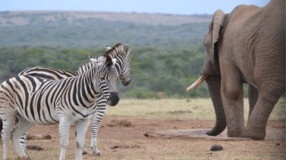 Overnight Tours
Enchantment Tours and Travel. Guided and Self Drive Tours Garden Route to Kruger
Tours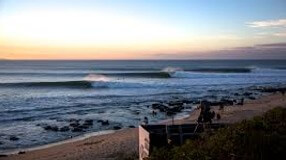 Day Tours
Enjoy a day out exploring the Eastern Cape.
Day