Sundays River Colchester Shuttle Transfer Services
Sit back relax, let one of our Drivers Transfer you to or from the Airport or any destination around Sundays River Colchester and surrounding Game Reserves. Private Transfer Service available at any time on your request.
Est: 2005. All Vehicles have Legal Road Permits and Passenger Liability Insurance, Drivers have Professional Driving Permits for your Safety and Peace of Mind.

One of our friendly drivers will collect you from the Airport Your Hotel or Guesthouse and transfer you to any destination of your choise.

For Friendly, Professional, Reliable 24/7 Service Call us on 083 6111 003 or mail jbaycabs(@)gmail.com
Sundays River Colchester Tourist Information
The villages of Colchester and Cannonville are nestled on the banks of the beautiful Sundays River, a few kilometres from the river mouth where it flows into the Indian Ocean through the majestic and world-renowned Coastal Dune Fields. Only 40 km from Port Elizabeth, this small community boasts a wide selection of accommodation and is the closest point of entry (five km's) into the Greater Addo Elephant National Park Southern Gate.
The Sunday's River is a MUST SEE, and first on one's list should be to experience an excursion on a river ferry which will transport guests to the river mouth, as well as up river for 6 – 12 km. Visitors can entertain themselves as the river is particularly well know for its excellent estuarine fishing and abundant bird life while water-sports are superb and includes almost all water disciplines. A host of guest houses, bed & breakfasts and camp sites near the river provide visitors with activities like swimming, canoeing, fishing and ferry rides.
Where it flows – bolstered by the waters of the Great Fish River - from the Darlington Dam towards the coastal village of Colchester, where it meets the Indian Ocean.
On this leg of its journey, the Sundays River nourishes a magical part of South Africa: Greater Addo and the dreamy Sundays River Valley. Here, the Khoisan called it 'Nukakanna' - 'grassy water'.
The Addo Elephant National Park is your first stop where, at sunset, you can watch the great grey beasts drinking at Hap Oor Dam. If you stay in the park itself, you'll be able to get those dawn shots that make wildlife photography so special.
Should you be travelling in the area during October, the fragrance of orange blossoms will be everywhere.
There's a lookout over the Sundays River Valley and its vastness of citrus where one can pay respects to James Percy FitzPatrick, the pioneer-author who lies buried here and who wrote the South African classic, Jock of the Bushveld.
It is said of Sir Percy, founder of the Sundays River Valley Scheme: 'He imagined rain in the Karoo watering the oranges that would be served at an English breakfast table.'
Nearby is the little town of Kirkwood, which hosts an annual wildlife festival which can also involve the competitive spitting of kudu droppings, a kitty show and arguably the best boerewors (sausage) in the world.
Top off your Sundays River Valley journey with a bird-watching cruise from Colchester to the nearby dunefields.
How to get here
The Sundays River Valley begins at Colchester, about 37km north from Port Elizabeth on the N2..
Best time to visit
Summer holiday time during December and January is most popular since the area comes alive with fun-in-the-sun activities. Rivers and park are less crowded and the weather is as good just before or after the high season if crowds are not your thing. The Sundays River Valley is great in October, when the orange blossoms are out.
Around the area
The award-winning luxury Shamwari Game Reserve is the perfect destination for day visitors to enjoy a game drive. Addo Elephant National Park tours, Grahamstown heritage tours and Schotia Safaris for viewing Lions.
Get around
Hire a Driver for a day or Take a Cab is recommended.
Length of stay
A couple of days to take in the wildlife and scenery.
Where to stay
A number of nice guesthouses, there are five-star game lodges at Addo and Shamwari; and farm guest houses make an interesting departure from traditional accommodation options.
What's happening
Annual Events
February
River Mile
March
Scifest - Grahamstown
April
Ironman South Africa
June
National Arts Festival – Grahamstown
Kirkwood Wildsfees - Kirkwood
October
Addo Rose Show (Addo)
Start of Ocean Racing Series
December
New Year's Eve celebrations
Who to contact for more Info on Sundays River
Nelson Mandela Bay Tourism
Tel: +27 (0)41 582 2575
Email: info@nmbt.co.za
Bay Cabs and Transfers
Tel: +27 (0)83 6111 003
Email: jbaycabs@gmail.com
Transfer Destinations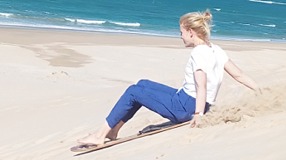 Adventures
Sandboarding, Surfing, Kayaking, Beach Rides, SUP's......
Active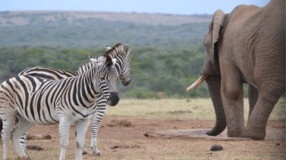 Overnight Tours
Enchantment Tours and Travel. Guided and Self Drive Tours Garden Route to Kruger
Tours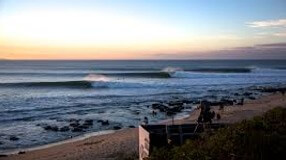 Day Tours
Enjoy a day out exploring the Eastern Cape.
Day